Here we are again thinking and learning.  I have had a number of telephone calls recently from parents worried about the school uniform their child has to wear made from polyester/cotton mix.  The polyester content has irritated the skin of the children.  Cotton is a naturally "breathable" fabric and is much kinder to the skin for both adults and children.  I certainly prefer cotton and wear it myself.
I then stumbled across the following article in "Wales online".  Wales is my homeland and I enjoy keeping up with the news.  The article comments on the chemicals often applied to fabric to make it especially easy to care for.  It is sometimes called anti wrinkle or Teflon coated.   Perfluorinated compounds are added during manufacture and the World Wildlife Fund are worried about the effect of this man-made chemical on wild life.  It's a really thought provoking article – School uniforms making children ill? 
Many schools choose polyester mix fabrics so that the garments can be washed very easily.  However the arguments for "just cotton" are significant, breathable, kind to the skin, wash at lower temperatures and if you add the Fairtade cotton as an extra reason then I think the decision should be a wise one.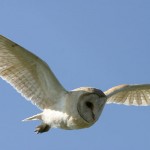 By the way on my way home form work Wednesday a magical barn owl accompanied me for about 200 yards.  It made me wonder………..what do I need to make wise choices about in my life at the moment.  Dig deep Susan.  But that's for another day.