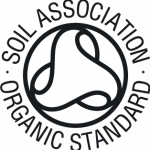 Good news again!  We seem to be going through a purple patch of good news. YeHa!
We have been in touch with the Soil Association and we think we can be the first "UK t shirt embroiderers to be certified as organic.  Whoopee.  Helen is on the case and looking into the auditing we would need to do.  I have to say that the Soil Association has been so helpful and positive.  We already have so many things in place I am hopeful so watch this space as we work towards the certification.
I will update the blog as we progress through the certification, the ups and downs,  and try and give tips based on our experience for anyone else inerested in gaining certification.
THANK YOU to those people not only kind enough to read this blog – but to also take the time to leave such positive comments.  I am so thrilled. 🙂