All Fabrics are made up of fibres and it is these fibres that give the fabric its characteristics.
There are two types of fibre; Filament and Staple.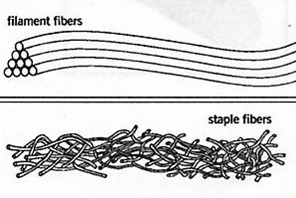 Most natural fibres, such as cotton and wool, are staple fibres and this is what gives polo shirt fabric its texture. Synthetic fibres, such as nylon and polyester are filament fibres, which is why these fabrics tend to be smoother.
Filament fibres refer to fibres of long continuous lengths, while Staples refer to those of shorter length, about a few inches long.
What do Cotton and polyester fibres look like?
Cotton                                                                  Polyester
That's all for today, watch this space for the next instalment!
Liz