< Back OekoTex Confidence in textiles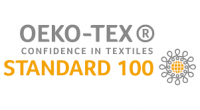 Confidence in textiles tested for harmful substances
Often known as Oeko-Tex standards
It is a global testing and accreditation scheme for the screening of harmful substances within consumer textiles. It is the leading label for textiles that have been screened for harmful substances.
The Oeko-Tex certificate issued by the relevant institute or responsible certification centre is valid for 12 months.
It verifies that the articles listed have been successfully tested according to Oeko-Tex Standard 100 and satisfy the requirements of a common product class.
Harmful substances banned under the Oeko-tex Standard 100 include:
Specifically banned AZO dyes
Carcinogenic and allergy inducing dyes
Formaldehyde
Pesticides
Chlorinated Phenols
Chloro-organic benzenes and toluenes
Extractable heavy metals
pH value
Phthalates in baby articles
Emission of Volatile components
Odour
Organotin compounds (TBT) and (DBT)
Within the certification process there are three product classes which are relevant to the products we supply:
Product class one: Textiles and textile toys for babies and small children up to the age of three. Cotton Roots embroidery threads meets Oeko-Tex 100 in this the highest product class.
Product class two: Textiles which, when used as intended, have a large part of their surface in direct contact with the skin, e.g. polo shirts, sweatshirts, shirts, blouses etc.
Product class three: Textiles which, when used as intended, do not come into contact with the skin, or only have a small part of their surface in contact with the skin, e.g. jackets, coats.
For further details: www.oeko-tex.com
OekoTex Confidence in textiles Certified Products