Examples of customers printed designs onto t shirts.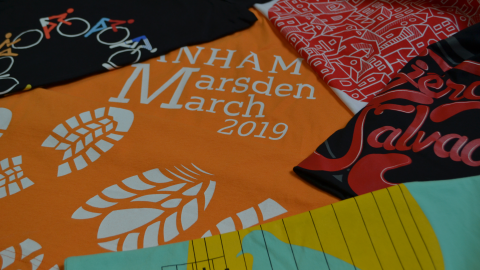 We offer t-shirts in more than 70 different colours and more than 30 different styles.
T-shirts are one of the most versatile and well known garments in the world. They are ideal to wear for work, fun and sports. They are comfortable to wear and available in an extensive range of sizes, up to 5XL.
We  embroider the t-shirts, or print them with your designs.
We offer team t-shirts, fitted women's t-shirts, t-shirts for children, sports t-shirts made from breathable fabric, and more.
We are one of only a handful of companies in the UK that supply Fairtrade and Organic Certified T-Shirts. The t-shirts are from our own brand called Cotton Roots.  They have a high quality finish and are made from soft organic cotton.