< Back Made With Fairtrade Certified Cotton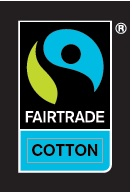 Fairtrade Cotton - What does it mean?
Our "Gold Riband" of ethically grown cotton and production of garments. Every stage of the manufacturing chain from the cotton farmer to us (Cotton Roots) must be Fairtrade licensees.
It all starts with the Cotton Farmers who farm on a small scale and are usually part of a village with links to a co-operative.
The Fairtrade scheme means that the farmers get a fair price for their cotton agreed in advance. They also get a small premium which can make a significant difference in their lives.
The cotton farming co-operative decides what they spend the premium on but it must go to the community in some way.
Examples include building a well, training, and buying weighing scales to measure the weight of their cotton.
When you buy this clothing you demonstrate your commitment to working in partnership with small scale cotton farmers.
To find out more go to www.fairtrade.co.uk
Made With Fairtrade Certified Cotton Certified Products