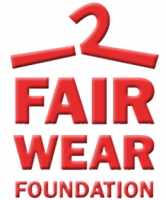 The Fair Wear Foundation (FWF) is an independent, non-profit organisation that works with companies and factories to improve labour conditions for garment workers. FWF is active in 15 production countries in Asia, Europe and Africa.
One of its strengths for us is that it is industry specific - it is concerned with clothing manufacture. The manufacture of clothing has great challenges and problems so an organisation which specialises develops expertise in that field.
In Its own words:- "
At Fair Wear Foundation, we know there's a better way to make clothes. We want to see a world where the garment industry supports workers in realising their rights to safe, dignified, properly paid employment.
To do this, we focus on garment production, specifically sewing, cutting and trimming processes–the most labour intensive parts of the supply chain. We work with our 140+ member brands, who are committed to finding a fairer way to make clothes, and we engage directly with factories, trade unions, NGOs and governments to find answers to problems others think are unsolvable. Together we're stitching together new solutions across the supply chain to make fashion fair for everyone".
Find out more about the Fair Wear Foundation www.fairwear.org
Fair Wear Certified Products