< Back Better Cotton Initiative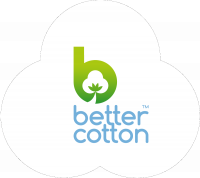 The better Cotton Initiative (BCI) is a not for profit organisation and is focused on developing higher standards in the growing of cotton.
Garments using cotton grown to meet BCI standard are not organic. However the focus is on careful use of water, chemical fertilizers and pesticides, to reduce the environmental footprint of cotton farming.
The cotton to a set of farm-level standards that cover issues like pesticide use, water use efficiency and worker health and safety. A set of tools is available to members of BCI members to support traceability and implement the program's Chain of Custody.
In their own words: "Our mission: to help cotton communities survive and thrive, while protecting and restoring the environment. We recognise the size of the challenge. The environment is in danger, climate change at a tipping point, and the majority of cotton farmers and farm workers are in some of the world's poorest, worst affected countries".
Find out more about the Better Cotton Initiative here.
Better Cotton Initiative Certified Products