Trading Ethically & Proudly
Our brand "Cotton Roots" featured on the BBC
Our Managing Director, Susan Waters is passionate about fairness.  For this reason we started to manufacture our own brand of clothing called Cotton Roots.  It is our own range of Fairtrade and organic certified garments.
We are one of the rare companies in the UK who manufacture these garments and hold stock.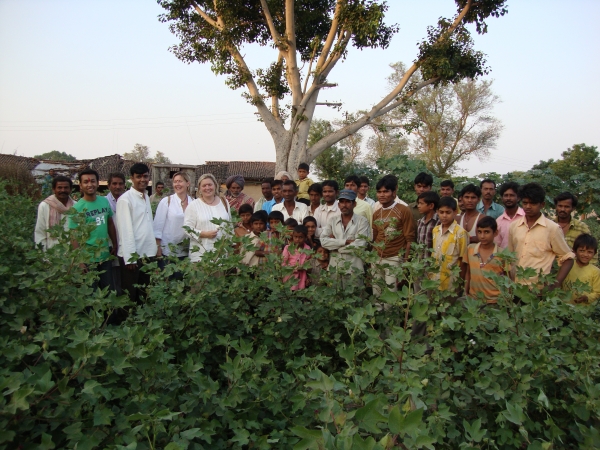 Our customers are schools who want Fairtrade certified school uniform,  companies who want to source ethically, charities  and organisations who want to buy clothing in keeping with their beliefs.
The garments are manufactured by Pratima Organic Growers Grop in India. Susan has visited cotton farmers to see for herself the difference trading fairly can make to their families.  The visit had quite an impact on her.
Environmentally Different
Us!  This is what we do.
Karen organises garments for World in Need and recycles everything that moves including the tea bags, Ros collects the vialene for Willen Hospice, Susan occasionally cycles (9 miles) to work in the summer, Marlene pays our suppliers on time,  Paul (IT support) cycles to us, Alison (bookkeeper) organises Northamptonshire South Freecycle.
Bagging of garments
95 percent of all the bags we use to package our garments are recyclable. 
Re-use of spoilt garments and old uniforms - World in Need
As manufacturers, on occasion, some of our embroidery and printing is not up to the standards we expect. This means that an otherwise perfect garment could be wasted. It is our company policy to find use for all of these garments.
We donate the clothing to Willen Hospice which is local to us, World in Need, or other charitable groups. We recently donated unused clothing and first aid kits to our local Syrian support group.
Re Branding re-use of uniforms
Occasionally some of our larger customers need to collect uniforms and distribute new ones. This may be because the company has been bought by another and so a different uniform is required. We offer to take this clothing back and collect it for World in Need.
Re-use of our waste
Where we cannot use for some of the by-products of our manufacturing process we try and find another use for them, e.g. tubes for hamsters to play in, sacks of vialene as massive draft stops!
Local schools
We often have small amount of rayon thread left on spools. Local schools and universities use the spare thread.
Universities
We also collect our off-cuts of FAIRTRADE and organic fabric. We have found university students really appreciate these pieces of material for use in often ground-breaking fashion designs.
Cardboard
Our cardboard is donated to schools when it is useful, otherwise it is sorted for recycling.
Purchasing pre-used items
Whenever we can we purchase items which are pre-used.
Of course this saves us money which we think is great for business. Some of the items we are proud to have bought pre-used:- boxes, office furniture, pallet trucks, racking and picking boxes.
Thread
We use top quality viscose embroidery thread.  Manufactured from managed forestry (fsc) and which has Soil Association approval and Oeko-tex 100 certification.
Energy
We purchase our electricity from Ecoctricity. After much research we selected Ecotricity as the energy supplier most committed to renewable energy.
Printing
We have recently found a printer that uses vegetable oil inks. Of course we use recycled paper throughout the company or paper which uses FSC managed forests.