< Back Ties - Bespoke, Made to Order
Corporate Ties - Bespoke Designs

Do you want ties manufactured to your own design? Do you have a logo you want to be professionally incorporated to make corporate ties for your company?
Many companies and organisations require bespoke corporate ties and we can manufacture them especially for you. 
Our minimum order quantities are 50 per design. The usual manufacture time is six weeks but if you need a design more urgently please ask, and we will do all we can to accommodate you the best we can!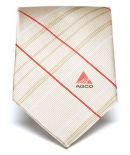 Matching Corporate Scarves
We can manufacture ties to match the scarves. Corporate Scarf Manufacture Information.
Design Assistance
If you have a gem of an idea but would like some design suggestions for your ties - we will be able to help. Simply describe your designs, or even better provide us a rough drawing, and leave it with us. We're confident we can produce the professional corporate tie designs you have in mind!
Fabrics
We can manufacture in either Silk or Polyester.